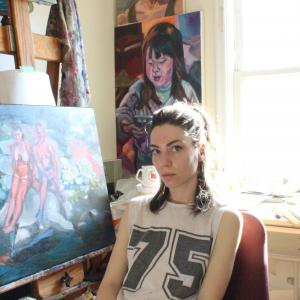 Sarah Van Dusen
Artist member since 2018
Toronto, ON
Artist Statement Sarah Van Dusen is an artist from Toronto, Ontario. She graduated from Centennial College Fine Arts Studio Program in 2012 and received the Faculty Scholarship Award. She continued her education at OCADU earning a BFA in Drawing and Painting. From 2011-2015 Sarah designed and implemented multiple mural projects in the Scarborough area as part of Street Art Toronto's initiative to beautify the City. She has also participated in numerous group exhibitions in theToronto Core. Currently, she teaches art classes at North York Seniors Centre.
Her most recent body of work utilizes found images from her family archive of photographs. By reflecting on these photographs she invites the viewer to connect with the imagery and with feelings of nostalgia. The familiarity of mundane moments, awkward cropping, and capturing spontaneous expressions allows the imagery to become personal and relatable. In Susan Sontag's essay "On Photography" she states, through photographs, each family constructs a portrait-chronicle of itself–a portable kit of images that bears witness to its connectedness. Through creating these paintings she gainsa deeper understanding of members of her family and their experiences.
---
Favourite movie
Cinema Paradiso.
When did you start making art, and why?
I've always made art. As a child my earliest memories were drawing and painting.
Only thing you need when you leave the house
My notebook.
Who do you consider a genius?
Eric Fischl.
Favourite artist(s) right now
Gustav Klimt, Nicolas Uribe, Petra Collins.
Beverage of choice
Cappuccino
Accolades
2012
Centennial College
Faculty Scholarship Award
Press
2016
BlogTO
40 Artists To Watch From The OCADU Grad Exhibition
Education
2016
OCADU
Drawing and Painting
2012
Centennial College
Fine Arts Studio
SHARE THIS ARTIST